If you're based in the European Union (EU) or
United Kingdom (
UK), you're required to verify 2 levels of verification to deposit, withdraw and trade on Okcoin.
Accepted countries of Okcoin Europe
Okcoin Europe LTD, a Malta limited liability company, provides services to residents of the European Union member states and the United Kingdom.
Getting started
1. Sign in to Okcoin.com, go to the profile icon, and choose Identity verification from the dropdown menu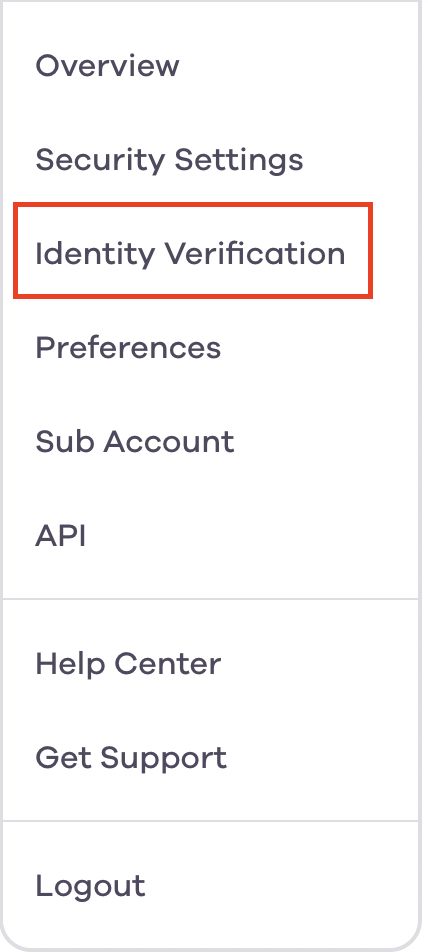 2. On the next page, please choose "Verify as an individual account".

KYC Level 1: Personal info
Provide the following information:
Country of residence
Full legal name
Date of birth
Country of nationality
Type of ID document
ID number
Residential address
Additional Investment questions

Account purpose

Source of funds

Occupation (multiple options)
Estimate of deposit volume

Origin and destination of assets

Origin and destination of wallets
KYC Level 2: Photo and ID verification and Proof of Address
Photo and ID verification
Upload a picture of your valid government-issued driver's license, identity card, or passport.
A few tips for a correct ID submission:
Make sure that there are no reflections or glare in the image of the ID that may prevent us from verifying your identity
Make sure that all four corners, front and back of the ID, are within the image and that all details on the ID are clear, e.g. text and images. No screenshots of any kind will be accepted.
Capture a self-portrait for face verification.
A few tips for a faster face verification:
Face the camera and slowly move your head according to the instructions on the screen
Make sure your appearance matches your photo on the ID. Don't wear glasses, masks, and hats.
Try to keep your face within the frame throughout the procedure
Proof of address
Upload Proof of Address
Driver's license (if the address is visible and matches the one on the system).
Government-issued IDs with current address.
Valid water, electricity, gas bills, bank statements (e-statement is also acceptable), or property management invoices that were issued within the last 3 months with your current address stated.
Documentation or voter identification listing your full address and issued within the last 3 months by:

State or local government
Employer Human Resources or Finance department
University or college


Okcoin EU individual accounts can trade up to $1,000,000 when verification level 2 is completed.
Additional information
If you submit incorrect information, we won't be able to verify your account. In this case, we'll contact you with instructions on how to resubmit your information, where possible