Apple Pay® is a digital wallet and mobile payment service that allows you to make easy and secure purchases with previously linked payment methods. Apple Pay works on most iOS and macOS devices with Face ID or Touch ID using the Safari browser. To use Apple Pay, you can
download Apple Wallet from the official App Store
.
You can use Apple Pay to buy crypto, as one-time and
recurring purchases
, using the Safari browser on mobile and desktop. You're not required to link a card or bank account to your Okcoin account in order to complete a purchase with Apple Pay. Instead, buy crypto with any existing card linked to that digital wallet by selecting Apple Pay as a payment method on the Okcoin website.
Note - Apple Pay is only available to individual accounts and can only be used to purchase crypto on quickbuy. You can't deposit fiat with Apple Pay.
To buy crypto with Apple Pay
Log in to your Okcoin account or create a new one
Start buying crypto on the website
Select Apple Pay as the payment method.
Confirm the purchase with any account linked to your Apple Pay
Note - You can buy crypto with Apple Pay from $10 to $250 per purchase. The maximum 24-hour limit is $250 per user.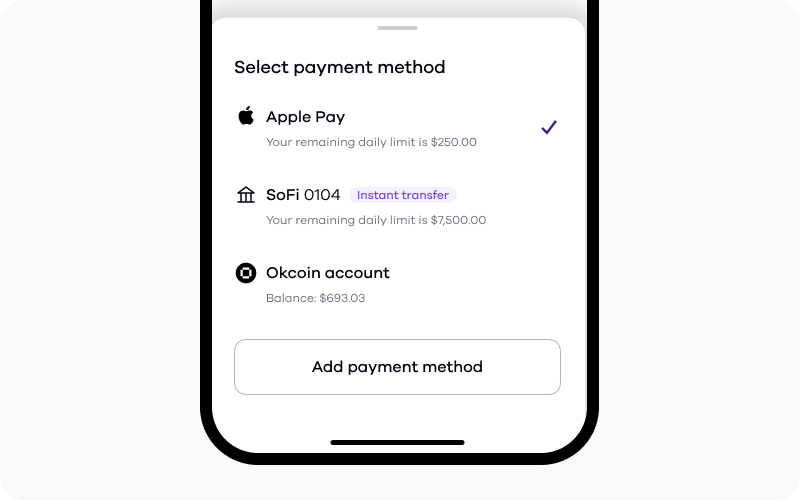 Selecting Apple Pay on the mobile Safari browser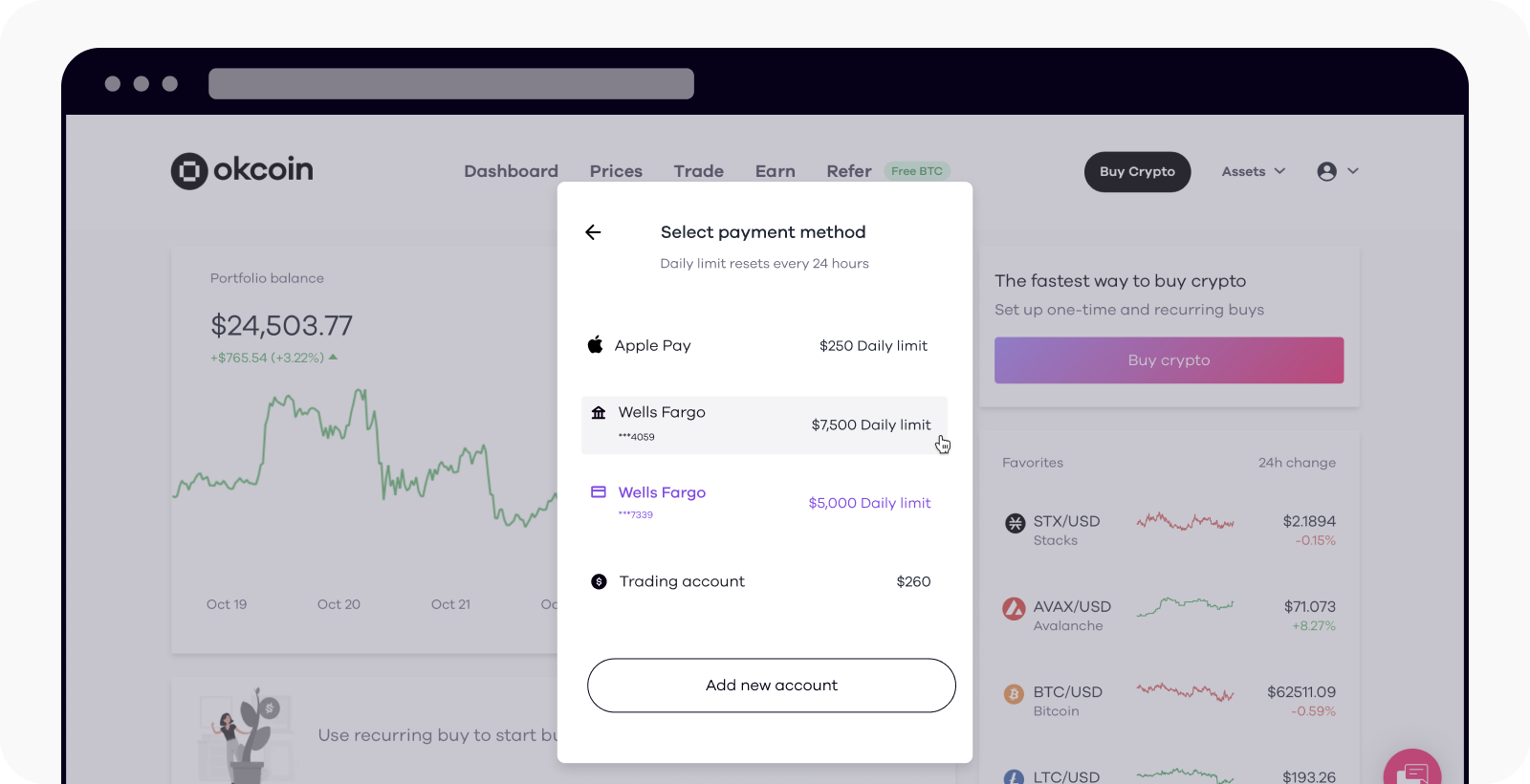 Selecting Apple Pay on the desktop Safari browser
Can I sell crypto with Apple Pay?
Unfortunately, no. You can only buy crypto with Apple Pay.
In which regions can I use Apple Pay?
You can use Apple Pay in Australia, Denmark, Hong Kong, Israel, Netherlands, New Zealand, Singapore, Switzerland, and the US.
Note - In the US, you can only use debit cards. In all other regions, you can use both debit and credit cards.
What are Apple Pay fees?
When buying crypto with Apple Pay, you'll need to pay 2.49% fee.
Why isn't Apple Pay working for me?
There are many ways to make sure that you're prepared to make your next crypto purchase using Apple Pay.
Check if your cards linked to Apple Pay are active and not blocked
For US users, select debit card instead of credit card when making purchase
Select your card in the Apple Wallet app manually
Remove your card and add it again in the Apple Wallet app
Restart the Apple Wallet app
Charge your device and disable Low Power Mode
If you're still having trouble with your digital wallet, you can contact
Apple Pay Support
for more info.
For additional questions regarding the use of Apple Pay on Okcoin, contact shield@okcoin.com if there's a risk inquiry or
support@okcoin.com
if it's a general inquiry.