You can download your US tax documents directly from Okcoin. Here's how to find them:
Log in to your Okcoin account.

Go to the

Overview page. You can find it under your profile icon > Overview.
Find the 2021 tax forms section.
You can check and download two forms depending on your account activity:
1099-B

form includes all of your taxable trading activities. This form reports transactional info detailing capital gains and losses from disposing of capital assets and cost basis when available. You'll see it if you've sold any crypto in 2021.

1099-MISC

form includes your Earn rewards. This form provides info for a wide range of income payments such as crypto earnings, referral bonuses, and other income. You'll see it if you've received at least $600 from Earn to your Okcoin account.
We update forms every year, so the current ones are for 2021. All documents are available as PDFs.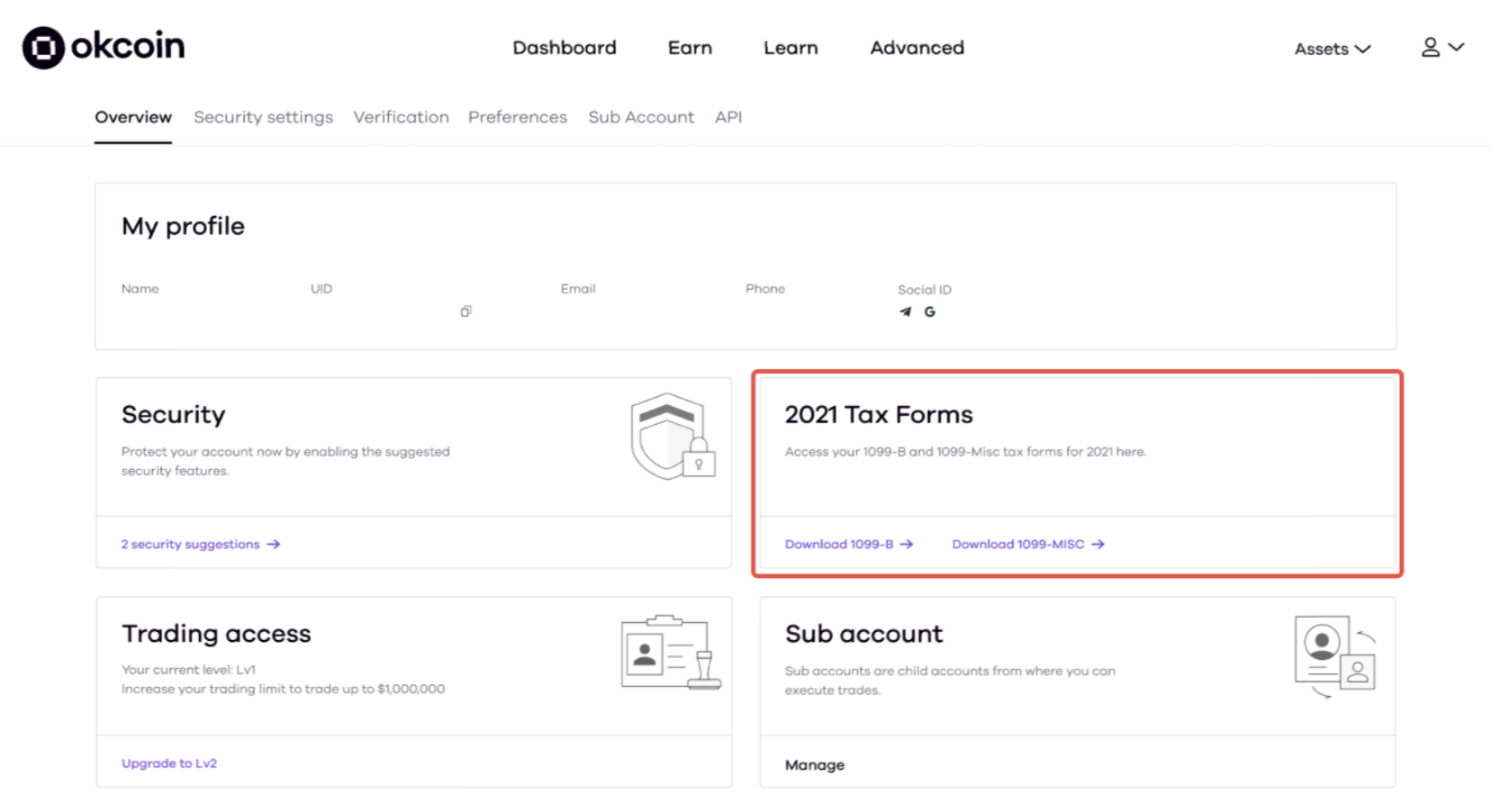 (Getting tax documents)
Frequently asked questions
1. Will I be able to receive tax forms?
If you've earned at least $600 in crypto earnings or bonuses this year, you'll be able to receive your 1099-MISC form. It'll be provided by the platform that issued the payments. If you've sold crypto on Okcoin, you should also expect to receive a 1099-B form.

You're responsible for reporting the income on 1099-MISC and 1099-B forms when filing your tax return.
2. Are all crypto transactions taxable?
Not every crypto transaction is taxable. The following activities are generally not considered taxable events:
Buying crypto

Transferring like-for-like assets between exchanges

Gifting crypto excluding large gifts that could trigger other tax obligations

Donating crypto, which is tax-deductible
The following crypto activities are generally considered taxable events:
Selling crypto for cash

Trading one digital currency for another

Using crypto as payment

Mining or staking crypto

Receiving airdropped tokens

Getting paid in crypto
3. When will I receive my tax forms?
If you qualify for a 1099-MISC or 1099-B form, you should expect to receive them by the end of March at the latest.

4. I don't see the tax forms section, what does that mean?
If you do not see the 2021 tax forms section under your profile Overview on Okcoin, it's because of one of the following reasons:
You haven't met the requirements for a 1099-B or 1099-MISC form.

Info such as your Social Security Number is missing. Please provide your

Taxpayer Identification Number (TIN)

by March 25th, 2022 if you've sold crypto in 2021 and wish to receive a 1099-B form from Okcoin.
5. Does Okcoin provide tax advice?
Okcoin doesn't provide tax advice. Please consult your tax professional regarding your particular situation and reporting requirements.
If you have any questions or issues with your tax documents, contact support@okcoin.com.
You can also learn more about how crypto taxes work in our "Crypto taxes, explained" blog article.