Before you can buy and sell crypto on Okcoin, you must create an Okcoin account and verify your identity.
There are 2 levels of identity verification.* You're required to complete ID verification level 1 to buy and sell on Okcoin. You can complete level 2 to trade a higher amount each day.
*There are 3 levels of identity verification in the following regions: China
Learn more about identity verification levels and limits.
Verifying your identity
Log in to the Okcoin app. On the home screen, select "Complete profile" to start verifying your identity. You can always return to the Identity Verification tab (Settings > Verification) to complete identity verification.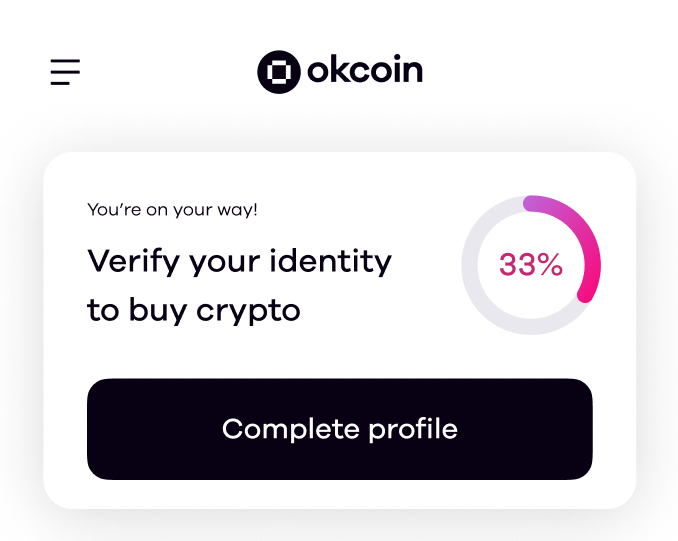 Select "Complete profile" to start verifying your identity
Identity verification level 1
You'll be asked to enter some basic information to complete ID verification level 1:
Country or region of nationality
Full legal name (as listed on your government-issued

ID

)
Date of birth
Social Security Number (Why do we need this?)
Country of residence
If you're located in the US, we'll also ask if you'd like to link your bank account so you can start buying crypto immediately. You can also link your bank account later.
Identity verification level 2
You'll be asked to enter some additional information to increase your daily trading limit:
A photo of your government-issued driver's license, identity card, or passport
A selfie to make sure it matches your

I

D
Located outside the US? You may need to enter additional information to meet local regulations before buying your first crypto, including:
Government-issued

I

D
Proof of address
Please note: It may take a few hours to verify your identity after submitting your documents.
What happens if my identity verification is rejected?
If your identity verification is rejected, we'll ask you to try again. Before you submit again, make sure the photo of your ID is in-focus and entirely visible.
If your verification is rejected more than two times, contact customer support for additional guidance. You can contact customer support through the app or at support@okcoin.com.
Learn more about why you need to verify your identity.