Before you can buy and sell crypto on Okcoin, you must create an Okcoin account and verify your identity.
There are 2 levels of identity verification for US users. You're only required to complete ID verification Level 1 to buy and sell on Okcoin, but you can complete Level 2 to trade a higher amount each day.
ID verification levels
Level 1: Required in order to buy and sell crypto on Okcoin (up to $500 per day.)
Level 2: Allows you to buy and sell higher amounts of crypto (up to $1M per day.)
Learn more about identity verification levels.
Verifying your identity
Sign into the Okcoin app. On the home screen, tap "Complete profile" to start verifying your identity. You can always return to this screen to complete identity verification.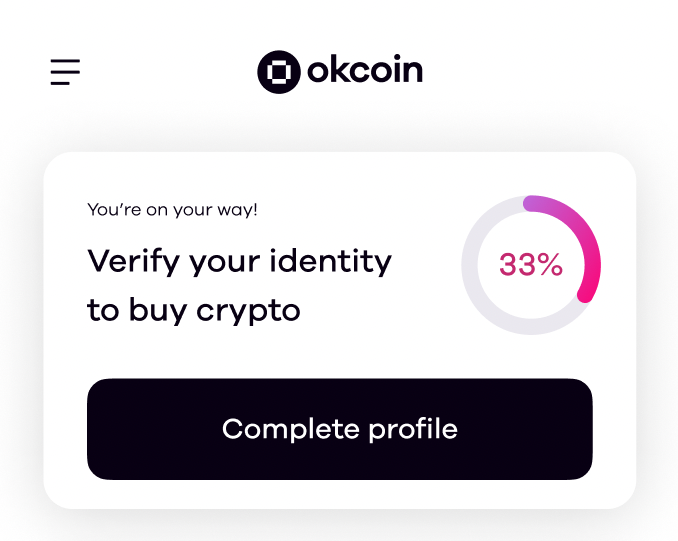 Tap "Complete profile" to start verifying your identity
Identity Verification Level 1
You'll be asked to enter some basic information to complete ID verification level 1:
Nationality

Full legal name that's on your government issued ID

Date of birth

Country of residence

Social security number (Why do we need this?)
If you're located in the US, we'll ask if you'd like to link your bank account after completing ID verification level 1. This will allow you to start buying crypto immediately. You can also link your bank account later, before you buy your first crypto.
ID Verification Level 2
Add additional information to your profile to increase your daily trading limit to up to $1M.
A picture of your government-issued driver's license, identity card, or passport

A picture of your face, to ensure it matches your ID
Located outside the US? You may need to enter additional information to meet local regulations before buying your first crypto, including:
Government-issued ID

Proof of address
Note: It may take a few hours to verify your identity after submitting your documents.
Why do I need to verify my identity?
Okcoin requests personal information, including financial and tax identification information, in order to comply with U.S. government laws and FINRA rules. Verifying your identity will ensure your account safety and prevent fraudulent activity. We request personal information from all okcoin customers.
What happens if my identity verification is rejected?
If your identity verification is rejected, you will be prompted to try again. Please ensure your photo ID is clear, and the entire document is visible in the image.
If your verification is rejected more than 2 times, contact Customer Support for additional guidance. You can contact Customer Support through the app, or send us an email at support@okcoin.com.