Getting started
To start investing and trading cryptocurrencies on Okcoin app, start here.
What you will need to register
An Android or iOS mobile device
A phone number linked to your mobile device
A bank account
Create your account
To start, go to your app store and download and open the Android or iOS Okcoin app.
Once you open the app, tap Create your okcoin account. This will take you to the sign up process.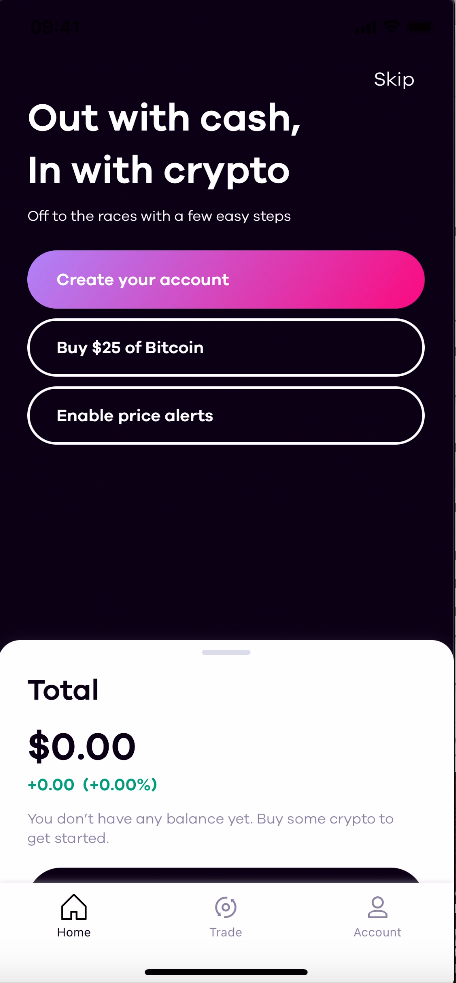 (Okcoin app home tab)
Create account with phone number
Enter your phone number. You will receive a 6 digit code to your SMS. Enter the code. You may also choose to receive a call with the six digit code.
Create a password
Choose and enter a password to secure your account. We recommend that you use a strong password to keep your account safe.
Your password must contain at least:
6 characters
1 number
1 letter
1 uppercase
1 symbol
Add your email
Enter your email to finish the sign up process. We will send you emails with important account and market information from time to time.
Verify your identity
After creating your account, you will be directed to verify your identity. If you choose to skip this part, you can always return by tapping Account and then Identity Verification.
You will need to provide the following personal information to verify your identity to kyc level 1
First name
Last name
Date of birth
Address
Last 4 digits of SSN
Connect your bank account
Note: Currently, only US customers can use the Okcoin app. If you are not a US based resident, please go to Account and tap Switch to pro to access the pro version of the Okcoin app.