What is Stacking?
"Stacking" on the Stacks blockchain network is similar to the process of staking on proof-of-stake blockchains. By temporarily locking STX on the Stacks protocol, you can secure and maintain network consensus via the protocol's proof-of-transfer mechanism. As a reward for doing so, you earn BTC.
The minimum amount that you can deposit into Earn to start stacking is 50 STX.
When can I deposit STX to earn BTC?
The Stacking process and distribution of BTC rewards happens in cycles, which are approximately two weeks long.
The cycle length is determined by block confirmations — each cycle is 2000 Bitcoin blocks. With the current average block confirmation time of ~10 minutes on the Bitcoin blockchain, 2000 blocks usually translates into roughly two weeks.
To see the exact time limit for depositing your STX on OKCoin Eаrn, check the live countdown at the top of the page.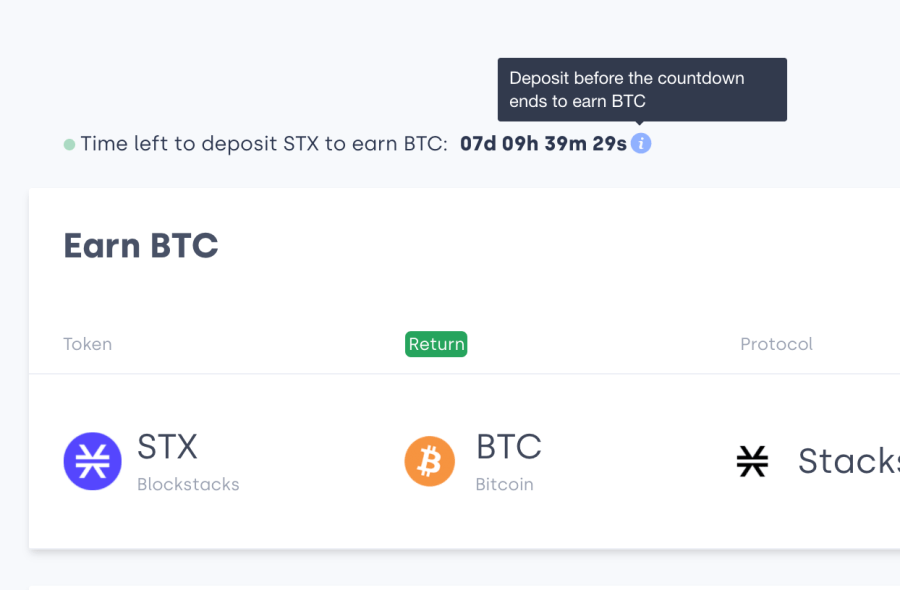 (Countdown timer for next stacking cycle)
On OKCoin you can either choose to stack for 1 cycle or 12 cycles. During this time your funds are locked and cannot be redeemed. At the end of the term your STX is unlocked and returned to your funding account. You must wait at least 1 cycle before you can stack your STX again.
When do I get my BTC rewards?
OKCoin aggregates all BTC rewards from Stacking STX and pays them out to users proportionally around 8:00 pm PST daily. BTC rewards are automatically deposited directly to the participant's OKCoin funding account and are available to trade or withdraw immediately.
If the very first block of a new cycle starts before 8:00 pm PST, then customers Stacking via Earn will receive the first rewards of that cycle that same day. Otherwise, they will start receiving rewards starting the following day.
Please note: reward distribution, as determined by the Stacks protocol, is front-loaded towards the beginning of each cycle. This means there may be a few days towards the end of each cycle when customers won't see any new BTC rewards in their accounts.
When can I withdraw my deposited STX from Earn?
Once you deposit STX on Earn, your STX will be locked for amount of Stacking cycles that you selected. At the end of the term your STX will be redeemed and added to your funding account. If you want to Stack again, you must wait at least 1 cycle. These rules are set by the Stacks protocol and not by OKCoin.