You can buy crypto regularly and automatically, like a subscription. These purchases can happen daily, weekly, twice a month, and monthly. Crypto prices change constantly, so we use the current prices at the moment of each purchase.
To set up a recurring purchase, log in to your Okcoin account on the website and start buying crypto:
Select Buy crypto from your Dashboard.
Select the crypto you want to buy.
Select the amount you want to buy in crypto or spend in cash.
Decide how often you want to buy: daily, weekly, bi-monthly (twice a month), or monthly.
Select Review order to check your purchase details and payment method.
Select Place your order to make the first purchase and automate the next ones.
We'll send you email receipts after each completed purchase. We'll also send you an email if you don't have enough funds for the upcoming purchase, or if there's an issue with your payment.
You can also set up recurring purchases on the app.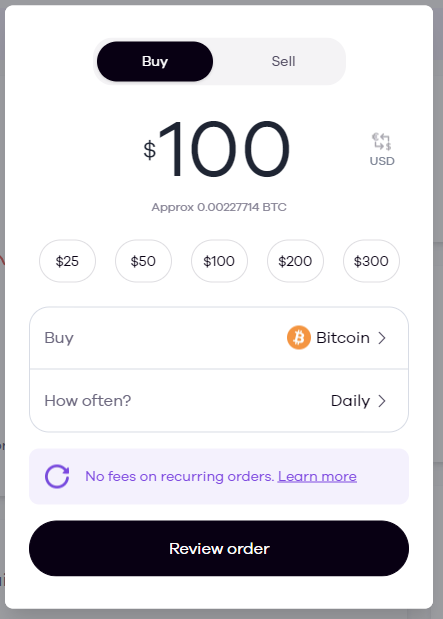 Starting recurring purchase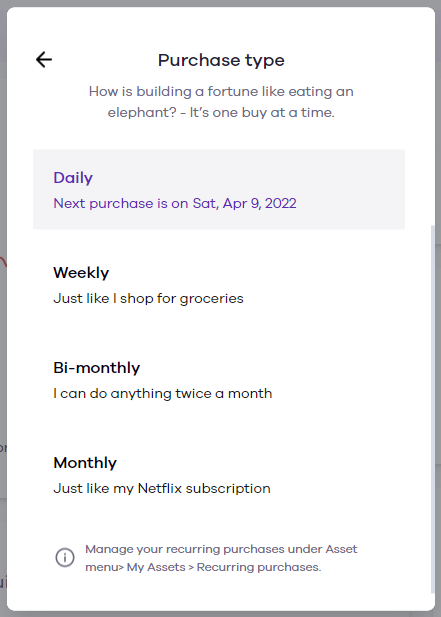 Selecting purchase frequency
If you want to review, pause, resume, or cancel any recurring purchase, go to Recurring purchases.
Note - You can't edit a purchase once it's started. You'll need to pause a purchase if you want to edit it.