You can deposit money into your Okcoin account by submitting a wire transfer through your bank typically using your online banking system. We'll provide the instructions needed to successfully submit the wire. Required information, like your unique Okcoin user ID, will allow you to wire money directly from your bank to your Okcoin account in the future.
Note - You'll need to complete identity verification level 2 to use wire transfers.
While Okcoin doesn't charge fees to complete a wire, your bank may charge fees. Make sure to refer to your bank for more information. These fees may vary and tend to be higher than other deposit methods, so wire transfers are recommended for depositing large amounts. For alternative methods, you can learn about
cash deposits
.
To submit a wire transfer:
Log in to your account on the Okcoin website and start your deposit.
Go to the Assets drop-down and select Deposit.
2. Select currency
On the Deposit page, select the currency you want to deposit (example: USD, EUR). If you've made deposits before, you'll see your most recent selections.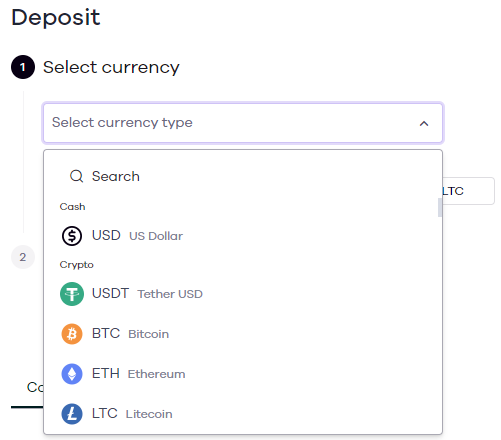 Selecting currency
3. Select Wire transfer as your payment method
Select Wire transfer from the Select payment method drop-down menu.
4. Submit a wire transfer through your online banking system
Our instructions include banking details, like your Okcoin user ID, that are required to successfully complete the deposit. Copy and paste the provided information to your online banking system.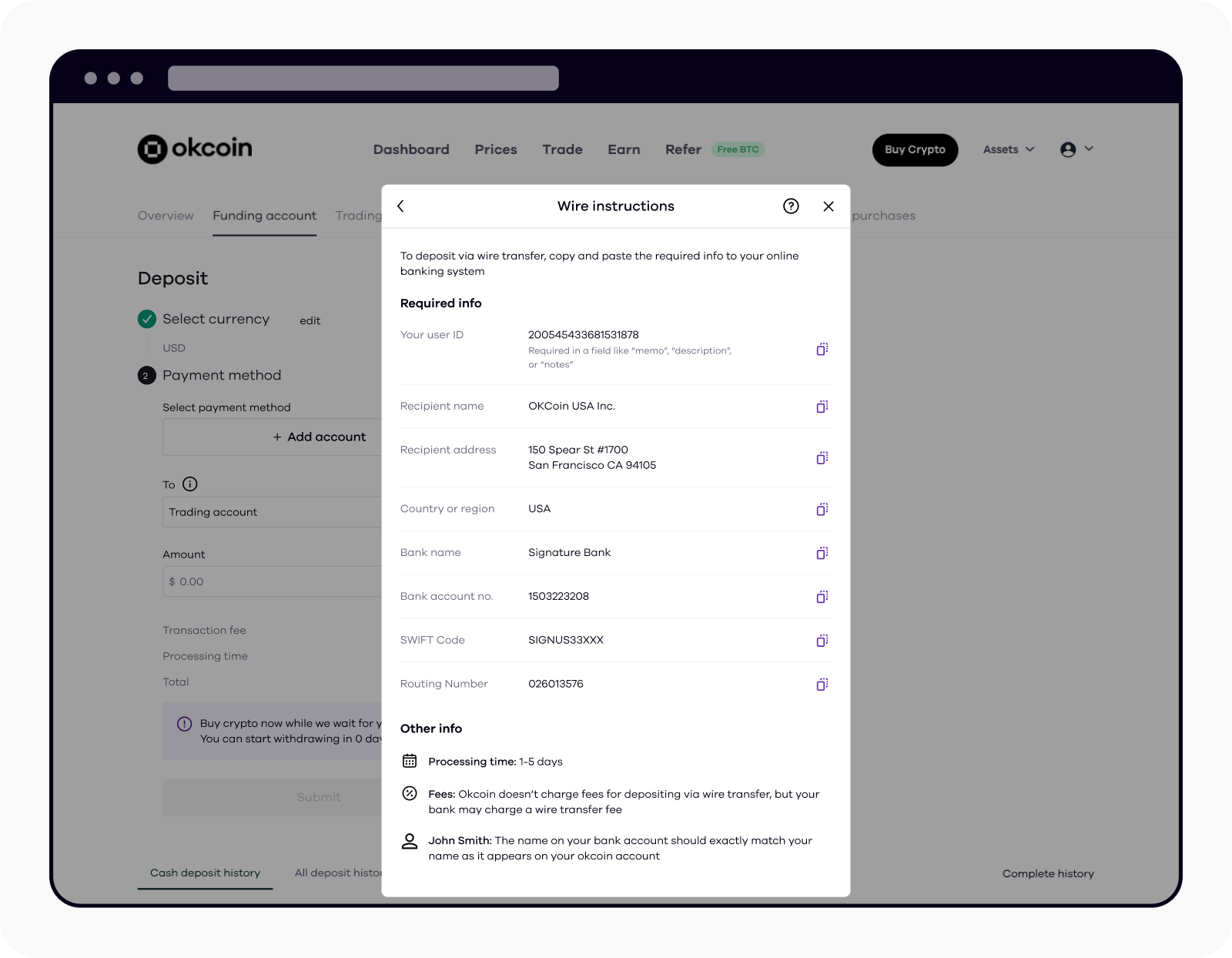 Including required information from wire instructions
Notes about your user ID and banking details
Double check the following for a successful wire transfer:
Your Okcoin user ID is included in an additional information field when submitting the wire transfer. Common field titles include "info", "memo", "description", "notes", etc. Failure to include your user ID will result in an unsuccessful wire.
The name on your bank account matches the name on your Okcoin account
"Business" is the recipient type
"Checking account" is the recipient account type
Next steps
You'll receive a confirmation email once your deposit has been processed. Then you can initiate future deposits via wire transfer directly from your bank. You can have up to 10 pending deposits at the same time.
Minimum wire transfer limits depend on your bank and channel. Maximum limits are based on your identity verification level. Learn more about
cash deposit limits
.
Haven't received your wire deposit?
Wire deposits are processed within 1-5 business days. If you do not receive your deposit within the processing time for your region, it's likely that the wire transfer failed for the following reasons.
Account name mismatch:

The name on your Okcoin account doesn't exactly match the name on your bank account. You must have the same name on both accounts. Reach out to

Customer Support

to change your name on your Okcoin account.

Missing Okcoin user ID: We can't identify which account to deliver the deposited funds to without your unique user ID. You must edit Okcoin's recipient information on your wire transfer or create a new request with your bank. Include the unique user ID in an input field for additional information. This input field may be labeled "memo", "info", "notes", etc.
Note - The term "deposit", as used in this FAQ, means transferring money from your bank account into your Okcoin account. Okcoin is not carrying out and does not intend to carry out any deposit-taking business.
US banks don't have IBANs. Instead, they use ABA routing numbers for domestic transfers and SWIFT codes for international transfers. Use the appropriate information to send money from your bank.