You can deposit cash into your Okcoin account using a wire transfer from your bank account. Choose a wire transfer if you want to deposit large amounts.
A wire transfer must be submitted through your bank. A wire transfer can't be submitted through Okcoin, but we will provide specific details that'll allow you to submit a wire request through your bank. These details include a unique User ID, so you can make multiple wire transfers from your bank in the future.
Wire transfers have different fees depending on your bank and channel. Your funds will usually be available in 1-5 business days after the transfer is initiated. You can have up to 10 pending deposits at the same time.
Log in to your account on the Okcoin website. Follow one of the ways to start your deposit:
Go to the Assets drop-down in the upper right corner and select Deposit.
Go to the Assets drop-down > My assets > Deposit.
Go to your Dashboard > My assets > Deposit.
2. Select currency
On the Deposit page, select the currency you want to deposit (e.g. USD, EUR). If you've made deposits before, you'll see your most recent selections.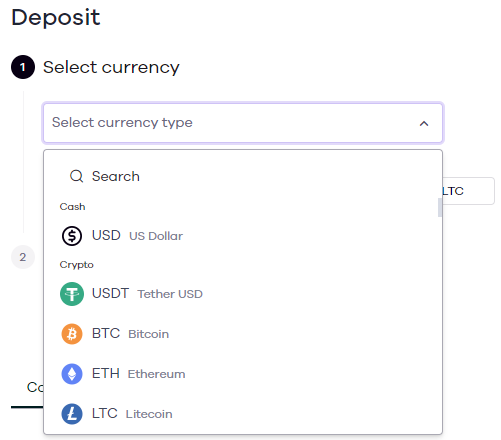 Selecting currency
3. Select Wire transfer as your payment method
Select "Wire transfer" from the "Select payment method" drop-down menu. If you haven't connected a bank yet, tap "Add account" and then select "Wire transfer."
4. Submit a wire transfer through your bank's online system
A form will display important banking details that will allow you to wire money to your Okcoin account. Now you can submit a wire transfer request through your financial institution's online banking system.
Minimum wire transfer limits depend on your bank and channel, while maximum limits are based on your identity verification level. Learn more about
cash deposit limits
.
Note - You MUST ensure the following for a successful wire transfer. Your transaction may be unsuccessful if you don't complete the following:
The name you use for your bank account must match your name on your Okcoin account.
Your unique User ID provided in the memo section of the wire request must be included in the memo section of the wire request.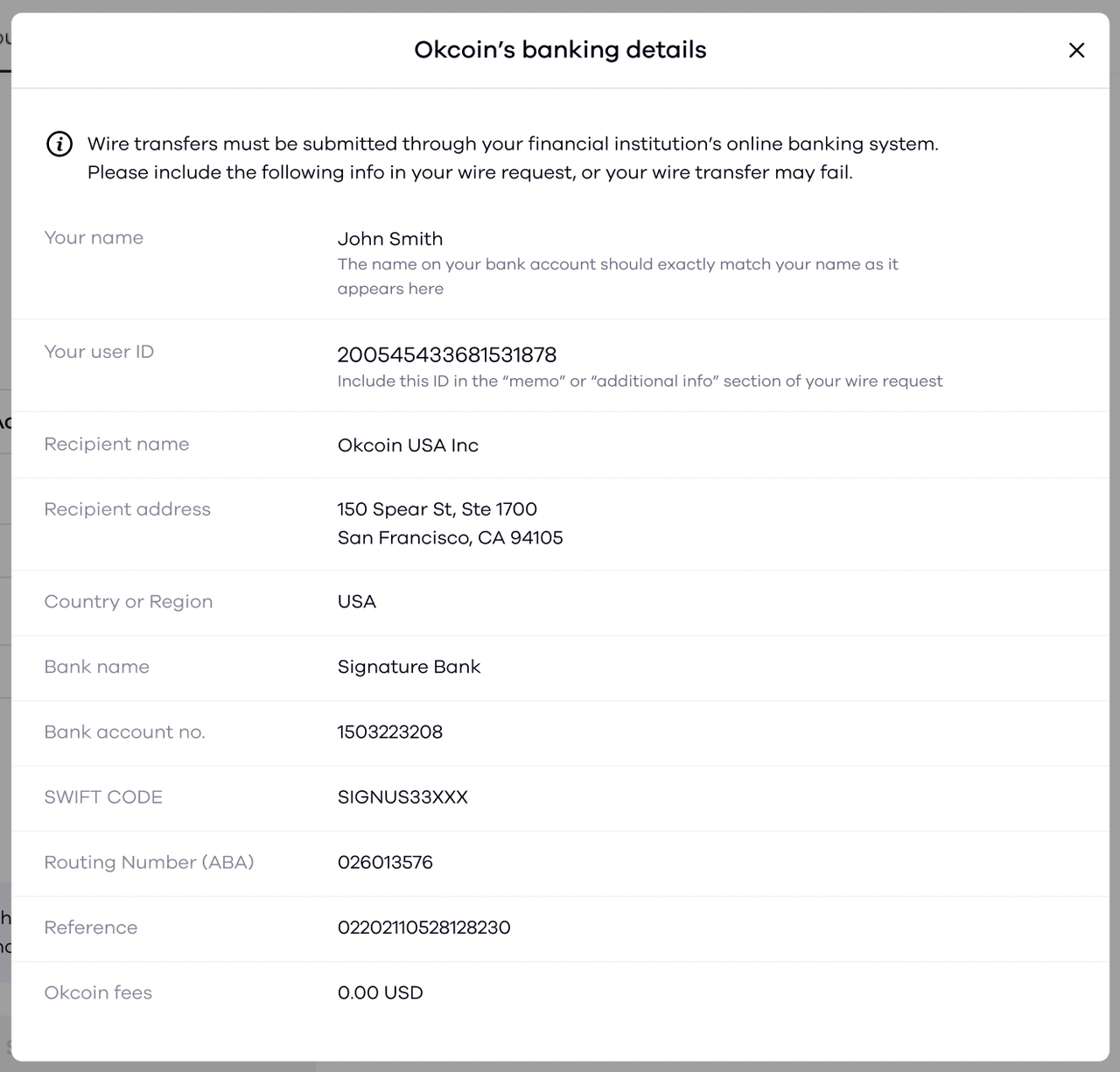 Checking wire transfer instructions
Please ensure all information from this form is included in your wire transfer request, including your User ID.
After you've completed a wire transfer to your Okcoin account, you can submit additional wire transfers to your Okcoin account directly from your bank.
Keep in mind that the US banks don't have IBANs. Instead, they use ABA routing numbers for domestic transfers and SWIFT codes for international transfers. Use the appropriate info to send money from your bank.
You'll receive a confirmation email once your deposit has been processed.
Note - The term "deposit", as used here, means transferring fiat from your bank account into your Okcoin account. Okcoin is not carrying out, and does not intend to carry out, any deposit-taking business.