You can deposit crypto from an external wallet or exchange account using a deposit address. We'll generate an address for you when you select crypto you want to deposit.
Deposit addresses are like your bank account details: you need it to receive crypto to your Okcoin account. Each deposit address can receive only one type of crypto, for example BTC or ETH.
We don't charge crypto deposit fees, but you'll need to pay a transaction fee to get your deposit verified on blockchain.
Log in to your Okcoin account on the website. We currently support deposits and withdrawals on the website only, but we're working to add them to the mobile app. Follow one of the ways to start your deposit:
Go to the Assets drop-down in the navigation menu and select Deposit.
Go to the Assets drop-down > My assets > Deposit.
Go to your Dashboard > My assets > Deposit.
2. Select currency and deposit network
You can select any crypto available on Okcoin (BTC, ETH, USDT, etc.). If you've made deposits before, you'll see the most recent selections.
Some crypto support different deposit networks. For example, you can deposit USDT through TRC20, Ethereum, Algorand, Polygon, or AVAX-C-Chain. Select the deposit network you're going to use. Make sure to select the same network when you send crypto from your wallet or exchange account.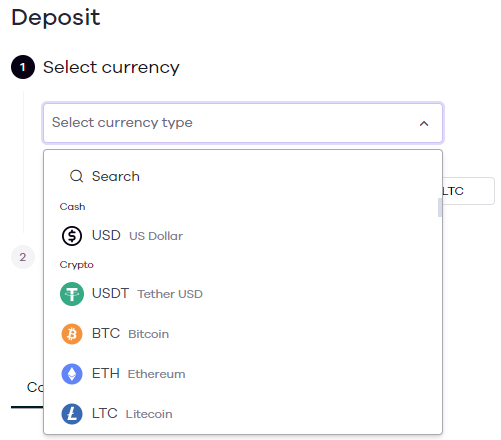 Selecting currency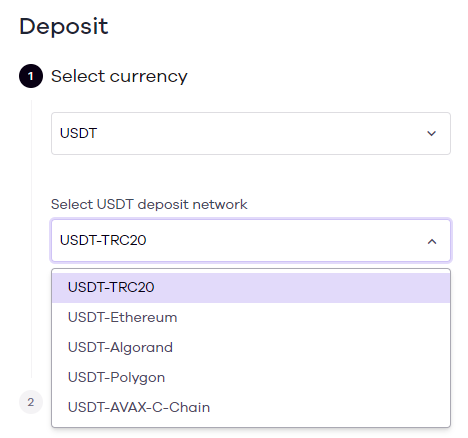 Selecting deposit network
3. Select the receiving account
Next, you need to select your Okcoin account to receive this deposit. You can send crypto to your funding or trading account. If you're ready to start trading, select a trading account. If you deposit to your funding account, you'll have to transfer crypto to your trading account to trade.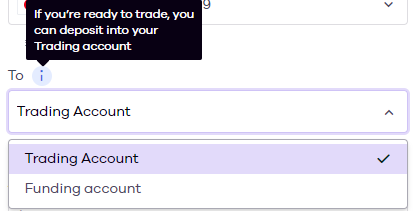 Selecting receiving Okcoin account
4. Select or create a deposit address
Next, select or generate a deposit address. Make sure you only send supported crypto, otherwise it may take a long time to process. In some cases, unsupported crypto may be lost forever.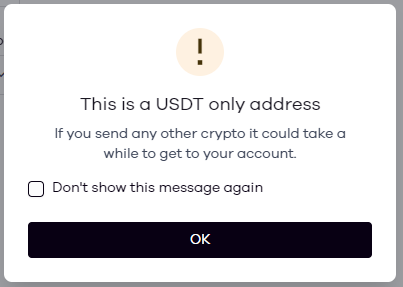 Checking a USDT address warning
In the address field, you can select any deposit address for the chosen crypto. If you've never deposited this crypto to your Okcoin account, we'll automatically generate the first address for you. You can also generate as many addresses as you want.
Select Address book to manage all your crypto deposit addresses.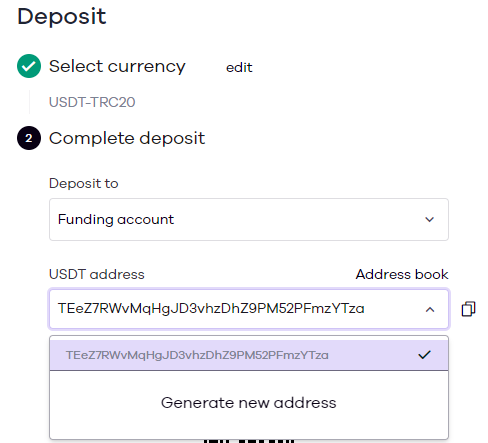 Selecting a USDT address
5. Copy the address and deposit crypto
Copy the deposit address and use it to send crypto from your external wallet or exchange account. You can also scan the QR code to get this address.
For USDC (when depositing through the Stellar network), STX + all CityCoins, EOS, XLM, and HBAR, you'll need to also copy and paste either a memo or tag. Without the correct memo or tag, we won't be able to credit your deposit and you'll lose your crypto.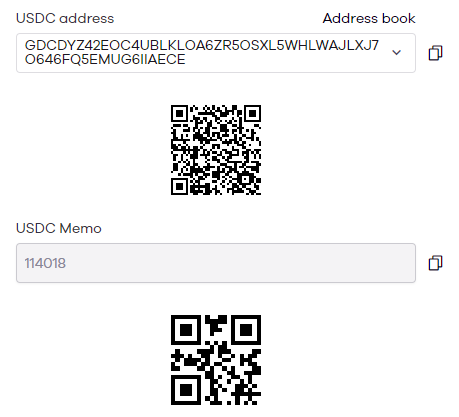 Getting both address and memo
6. Check confirmations and limits
You may want to double-check all the applicable rules. Rules vary by crypto, but there are two main categories:
Number of blockchain confirmations. This affects how quickly you receive crypto to your Okcoin account. The more confirmations required, the longer it may take. You'll see the number of confirmations required to make a deposit withdrawable from Okcoin.
Minimum deposit limits. Make sure to deposit at least the minimum amount, like 0.001 ETH. If you make a deposit smaller than the minimum, we won't be able to credit your account and you'll lose that crypto.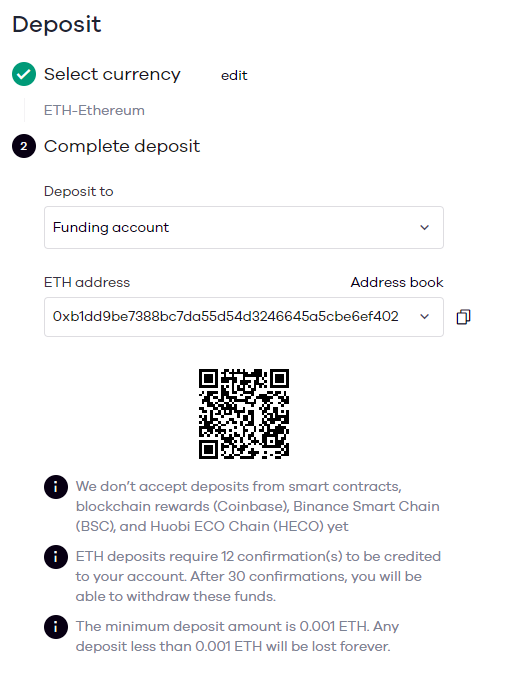 Checking the final deposit details
Note - The term "deposit", as used here, means transferring cash from your bank account into your Okcoin account. Okcoin isn't carrying out, and doesn't intend to carry out, any deposit-taking business.