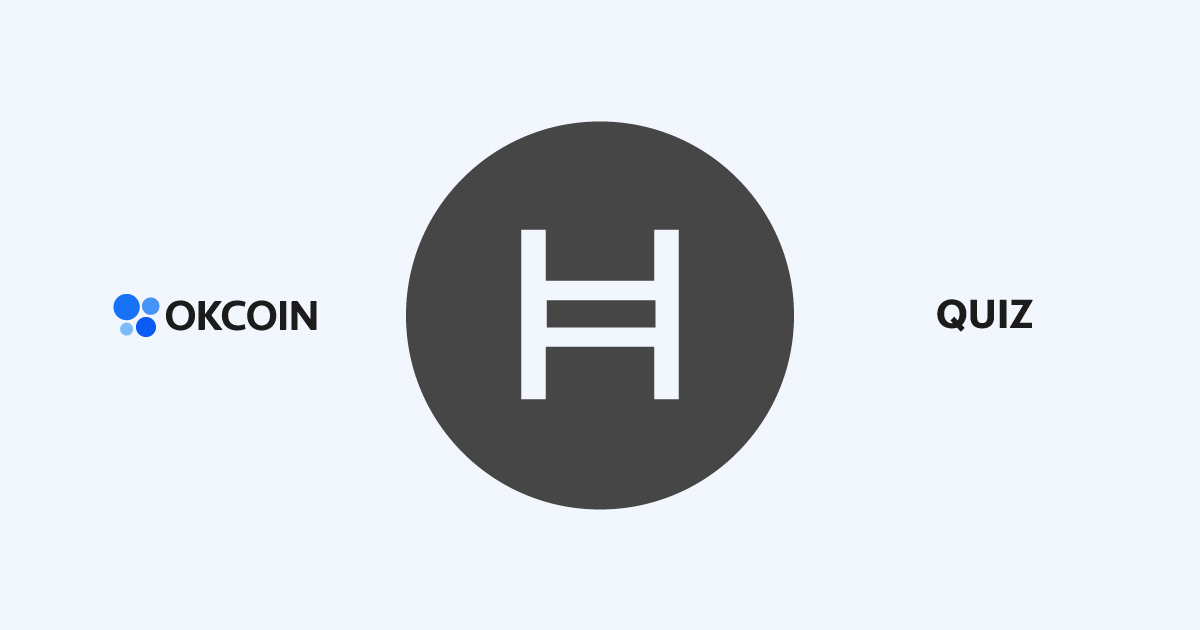 OKCoin is giving away $125 (USD) worth of HBAR in today's Hedera Consensus Service quiz on Twitter
Here's how to participate:
OKCoin will tweet five questions, each as a separate tweet on one Twitter thread.
For each tweet, participants may comment with an answer to the question in order to participate and OKCoin will randomly draw one correct answer for each question to win $25 worth of HBAR.

Participants may answer each question one time, with the chance to win a total of $125 in HBAR.
Entry period: 9:00 am PT, on Thursday, February 20, 2020, through 11:59 pm PT on Sunday, February 23, 2020. We'll draw and contact winners via Twitter Direct Message by end-of-day on February 24. Winners' names will be posted here within a week of confirming eligibility.
Note: rewards are deposited into ID-verified Level 2 accounts. If a winner cannot meet this requirement within 7 days of being notified via direct messages on Twitter, a new winner will be drawn.
Terms and Conditions
Applicability:

These Terms and Conditions are applicable to all OKCoin USA Inc. ("Sponsor") contests and sweepstakes ("Promotion") unless otherwise provided in the respective Promotion's description.

Eligibility:

The Promotion is open only to those who are 18 years of age or older as of the date of entry and is void in any jurisdiction where such Promotion or any portion thereof is prohibited. Employees of Sponsor, their respective affiliates, subsidiaries, advertising and promotion agencies, suppliers and their immediate family members and/or those living in the same household of each are not eligible to participate in the Promotion. The Promotion is subject to all applicable federal, state, and local laws and regulations.

Agreement to Rules:

By participating, you agree to be fully and unconditionally bound by these Rules, and you represent and warrant that you meet the eligibility requirements set forth herein.

Promotion Period:

Entries start and end on or about the dates provided in the Promotion description. All entries must be received by 11:59:59PM PST on the end date of the Promotion.

How to Enter:

The Promotion must be entered by following the instructions provided in the Promotion description, or by following the instructions listed below for an alternate means of entry, if applicable. Entries must fulfill all Promotion requirements, exactly as specified, to be eligible to win a prize. Entries that are not complete or do not adhere to the rules or specifications may be disqualified at the sole discretion of Sponsor. You may not enter more times than indicated regardless of the means of entry. No purchase necessary to enter or win. A purchase will not improve your chances of winning. You are responsible for any access, usage, and postage costs, if applicable.

Alternate means of entry:

For Promotions that are considered sweepstakes and where consideration is required for entry, an alternate means of entry may be accomplished by mailing Sponsor a Hand-written a 3"x5" card ("Entry Card") with the following information: your full name, complete mailing address, valid email address (if you do not have an email address, print "no email address"), telephone number, and the exact title of the specific sweepstake you would like to enter. You may mail the Entry Card to Sponsor's principal place of business provided in this Terms and Conditions. Each card will only count as one entry for the specific Promotion indicated on the entry card.

Prizes:

Winners will receive prizes listed in the Promotion's description. Actual/appraised value may differ at time of prize award. No cash or other prize substitution permitted except at Sponsor's discretion. Prize is non-transferable. Any and all prize related expenses, including without limitation any and all federal, state, and local taxes shall be the winner's sole responsibility. The odds of winning for sweepstakes Promotions depend on the number of eligible entries received.

Winner selection and notification:

For Promotions held over social media (e.g. Twitter, Instagram, Facebook, etc.), participants must enable and allow direct messaging from the Sponsor from within the applicable social media platform to the account associated with the selected winning entry. Any Promotion utilizing a "drawing" or "random drawing" will be chosen using a generally accepted and reasonably random drawing method. Any Promotion constituting a contest will consist of one round of judging by a Sponsor staff member. Winners will be notified via direct electronic messaging within five (5) days following the winner selection. Sponsor shall have no liability for a winner's failure to receive notices unless due solely to Sponsor's gross negligence. If the potential winner cannot be contacted, is ineligible, or fails to claim the prize within 15 days from the time award notification was sent, or fails to timely return a completed and executed declaration and release if required, prize may be forfeited and an alternate winner may be selected at Sponsor's sole discretion. To obtain a copy of the list of winner(s), mail your request along with a self-addressed stamped envelope to Sponsor's principal place of business at 150 Spear Street, Suite 1700, San Francisco, CA 94105. Requests must be received no later than 7 days after the end of the Promotion unless otherwise provided under applicable law.

Disqualification:

Sponsor reserves the right, in its sole discretion to cancel, terminate, modify or suspend the Promotion should any cause beyond Sponsor's direct control adversely affect the Promotion. Sponsor reserves the right at its sole discretion to disqualify any individual who adversely affects the Promotion, the Sponsor's website, or violates these Terms and Conditions, from this and any future promotions offered by Sponsor. Failure to allow or otherwise enable direct communication from Sponsor for the purposes of winner notification pursuant to Section 8 shall also disqualify an entry.

No Multiple Entries:

Sponsor has the right, in its sole discretion, to maintain the integrity of the Promotion by void entries for any adverse reason including but not limited to multiple entries from the same user regardless of IP addresses; multiple entries from the same computer in excess of that allowed by Promotion rules, or the use of bots, macros, scripts or other automated means for entering. Any individual who uses multiple social media accounts to enter the Promotion more than once shall be disqualified and be ineligible from future promotions.

Limitation of Liability:

By participating in the Promotion, you agree to release and hold harmless Sponsor and its subsidiaries, affiliates, advertising and promotion agencies, partners, representatives, agents, successors, assigns, employees, officers and directors from any liability, illness, injury, death, loss, litigation, claim or damage that may occur, directly or indirectly, whether caused by negligence or not, resulting from your participation in the Promotion.

Disputes:

THE PROMOTION IS GOVERNED BY THE LAWS OF THE STATE OF CALIFORNIA, UNITED STATES, WITHOUT RESPECT TO ITS CONFLICT OF LAWS DOCTRINE. As a condition of participating in the Promotion, you agree that any dispute, claim or controversy arising out of or relating to participation in the Promotion shall be determined by binding arbitration in San Francisco, CA before one arbitrator. The arbitration shall be administered by JAMS pursuant to its Comprehensive Arbitration Rules and Procedures or International Arbitration Rules, as applicable. Judgment on the Award may be entered in any court having jurisdiction. In any such dispute, you hereby waive all rights to claim punitive, incidental, or consequential damages, including reasonable attorneys' fees, other than participant's actual out-of-pocket expenses to enter the Promotion.

Social Media Platforms:

You agree to abide by any additional rules set forth by respective social media platforms on which the Promotion is conducted.