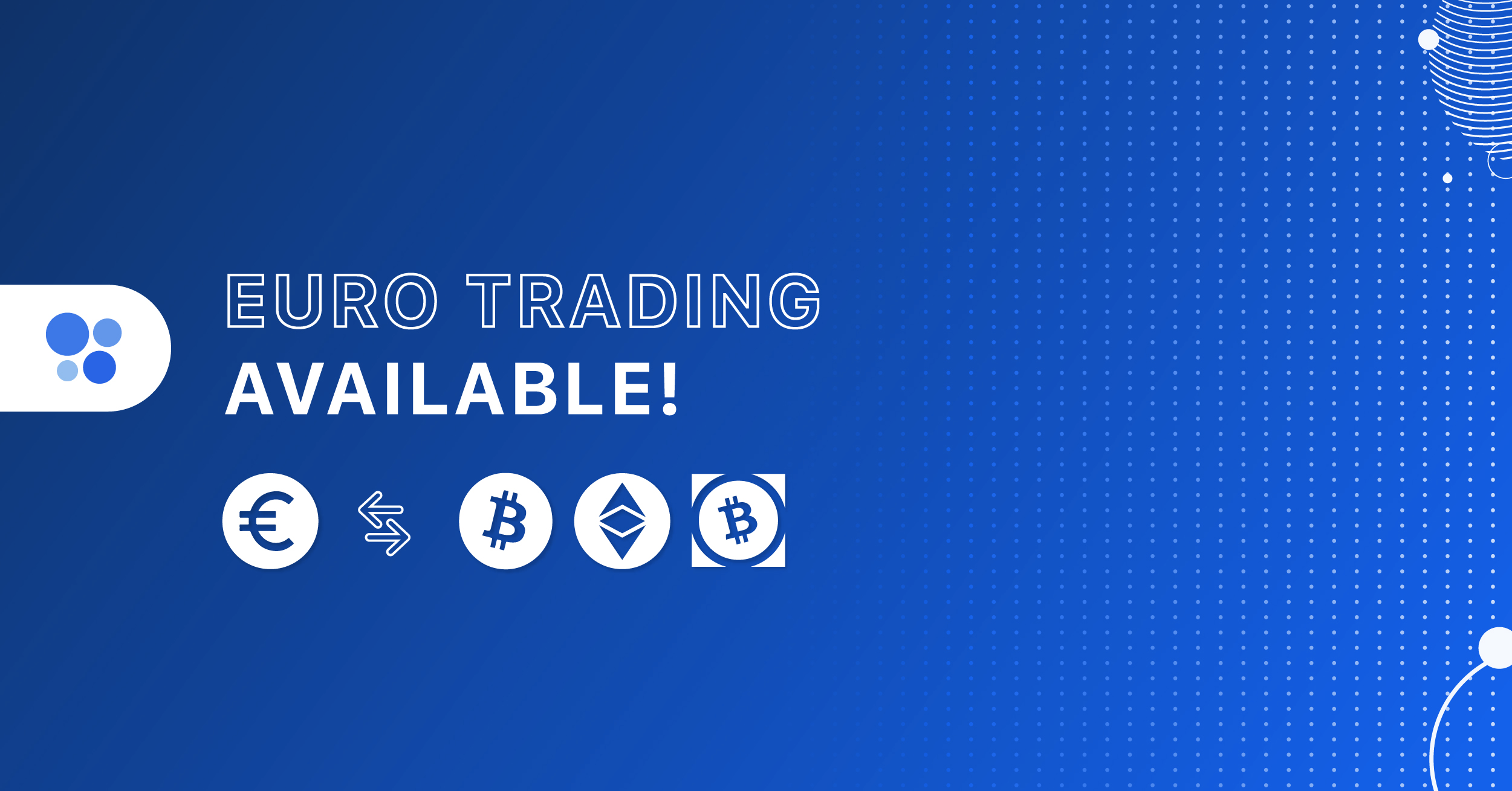 Dear Valued Users,
Here at OKCoin, we're on a mission to make digital assets accessible to the world, which is why we are excited to announce our expansion into European markets. OKCoin now accepts euro deposits and withdrawals on our digital asset trading platform for all eligible users outside of the U.S. In addition to existing USD pairs, our U.S. users will also be able to trade against euro pairs. Below are a few answers to questions you may have:
When will deposit, withdrawal, and spot trading be available?
Deposit and withdrawal: Now available

Spot trading: June 4, 2019, at 8:00 pm PT
Which digital asset pairs are available using euros?
You will be able to access our euro spot trading services for the following digital assets:
| | |
| --- | --- |
| Bitcoin | BTC |
| Ethereum | ETH |
| Bitcoin Cash | BCH |
This is only the beginning, as we will be adding more pairs and trading options very soon, so please make sure to visit our website frequently.
What are the fees?
We are happy to announce to our users worldwide that euro deposits and withdrawals will incur ZERO fees for the first 3 months, starting today, June 4th, at 6:00 am PT until September 4, 2019, at 11:59 pm PT. It is important to note that your personal bank may still charge you a fee when processing a deposit or withdrawal, which you will still need to pay. OKCoin will only cover the fees listed below.
After the first three months, we will bring back the normal fee schedule for the following payment channels:
Name

Deposit

Deposit Fee

Withdrawal 

Withdrawal Fee

TrustPay

Min: 1 EUR

Max: 500 EUR

per day

 0.30%

+

0.20 EUR

Max: 500 EUR

per day

1.5 EUR for SEPA

30 EUR for international

Prime Trust*

 

Min: 50,000 EUR

 

FREE

 

 

N/A

 

35 EUR
* For institutional users only
How do I make a deposit?
To make a euro deposit, log in to your OKCoin account, and click on the "DEPOSIT NOW" button as shown in the image below:

If you've made a deposit before, select "Fiat Deposit" on the left panel. Then select the "Wire Transfer" tab, and then "EUR" under the "Deposit Fiat", as shown in the image below:

If this is your first time making a deposit on OKCoin, select "Bank Management" and then "Add Bank Information" to link your bank account. Under "Amount", type the desired deposit amount and select "Submit".

IMPORTANT: After you click "Submit", you still need to go to your bank website and initiate a wire transfer to our relevant payment channel accounts. The wire instructions are laid out in every deposit order. 
What happens to my current account?
If you're an existing EU customer, you'll continue to use the full suite of digital asset trading services on OKCoin.com without interruption. Simply use your current OKCoin.com username and password to access the site.  
What's in it for me?
We've taken the best of OKCoin, such as industry-leading security features, access to 24/7 customer support, plus our secure, stable, and reliable digital asset trading platform, to establish euro trading in addition to US dollar trading.
What if I'm an institutional customer?
Euro trading on OKCoin isn't only for individual or personal accounts. All eligible non-US customers, including institutional customers, will be able to access our euro spot trading services, upon successfully completing KYC verification. To sign-up as an institutional customer, please click here.
Give us your feedback
If you have any questions or trouble accessing OKCoin's platform, our customer service team is here to help. Simply submit a feedback ticket or send us an e-mail at support@okcoin.com. Users can also utilize our FAQs or User Guide support pages for answers to common questions plus useful information and tips. As always, happy trading!
Follow us on our official OKCoin Twitter account (@OKCoin) for important news and announcements.
OKCoin
June 04, 2019