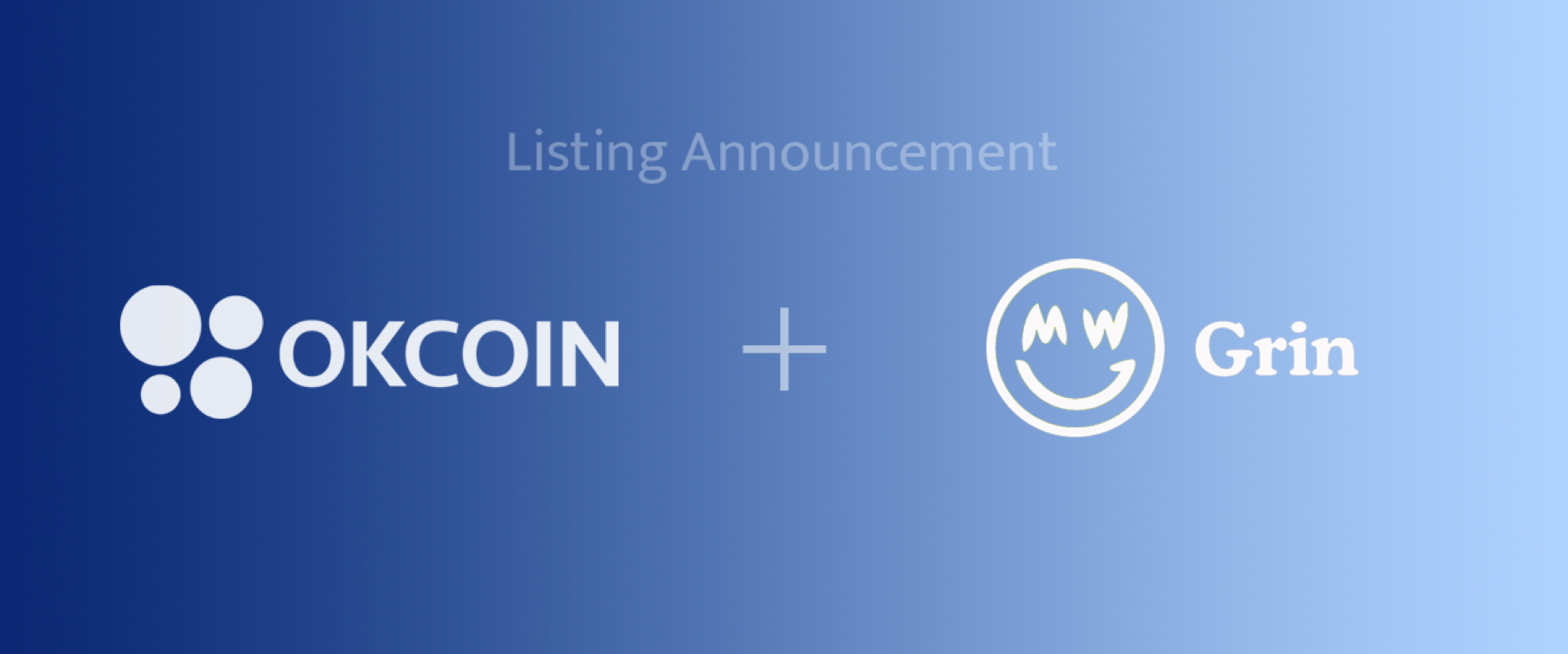 OKCoin is excited to support Grin as its first US dollar (USD) pairing. Grin is an open-source and community-driven project built upon MimbleWimble, a new blockchain protocol designed to address the privacy and scalability challenges of the Bitcoin blockchain. We are looking forward to participating in and contributing to the Grin ecosystem in the coming months!
Please note the following market opening schedule (UTC+8:00):
Deposit: February 27, 2019 at 11:00 AM
Spot Trading (Grin/USD, Grin/BTC, and GRIN/ETH): March 1, 2019 at 11:00 AM
Refer to our Technical Documentation and Instructions on how to deposit Grin. 
Withdrawals for Grin will be available soon.
Next Steps
We are partnering with Grin developers, suppliers, and investors to ensure that users can confidently trade and withdraw Grin. We have already deployed our own internal engineering resources to explore and support ecosystem development of a user-friendly withdrawal option. We recognize that the supply of Grin is still growing and are working with diverse suppliers in the ecosystem who are interested in selling Grin on our platform.
Our office will also be hosting a series of events in San Francisco to support the Grin ecosystem to share their vision and passion. Stay tuned for exciting event updates!
We look forward to updating you on our progress towards a safe and convenient experience trading and withdrawing Grin.
Despite Grin's youth, we have high hopes for the ecosystem as it continues to mature. OKCoin does more than create markets for buyers and sellers; we are committed to fostering a marketplace for novel ideas, passionate people, and necessary resources as we continue to grow this crypto ecosystem.
Thank you, as always, for your continued support.
OKCoin
26 February, 2019
Risk Disclosure: Trading digital assets involves significant risk and can result in the loss of your capital. You should ensure that you fully understand the risk involved and take into consideration your level of experience, trading objectives, and seek independent financial advice if necessary.