Last Updated: December 16, 2019
OKCoin supports US Dollar wire transfers from banks located in both our US and international areas of operations.
Important Tip 1: In the U.S., only wire transfer and Silvergate SEN (Silvergate Exchange Network) deposits are currently supported.
Important Tip 2: Deposit via wire transfer is a 2-step process:
Submit a deposit request on OKCoin and take a screenshot of the wire transfer instruction.

Login to your bank's online banking platform (or visit your bank branch) to initiate an actual wire transfer manually.

Step 1- Click Fiat Deposit
After logging in, click Fiat Deposit from the drop-down menu

Step 2- Click Add Bank Information
2a. Click Add Bank Information to add a bank that you will be making the deposit from.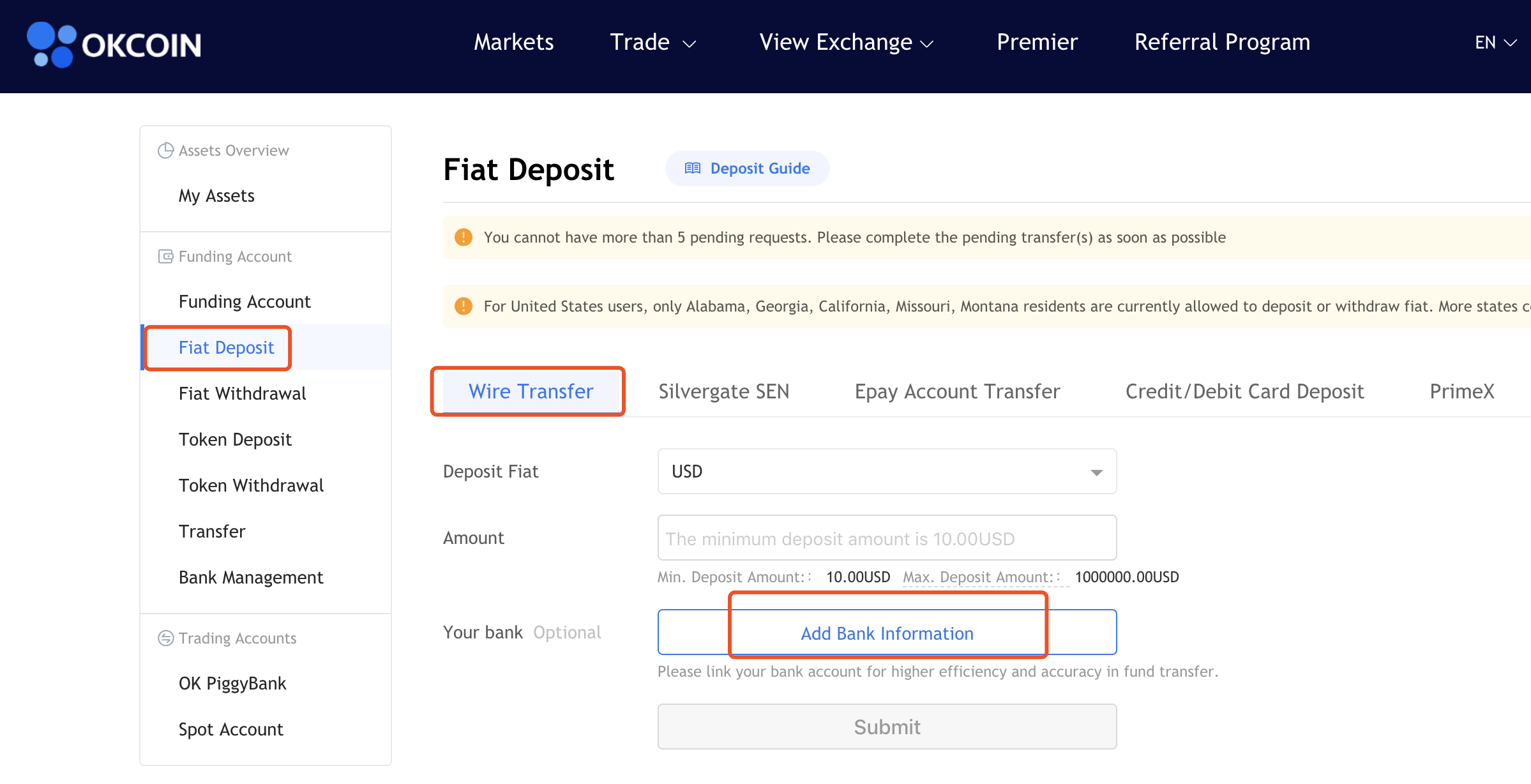 2b. Fill in the bank information, and then click Submit.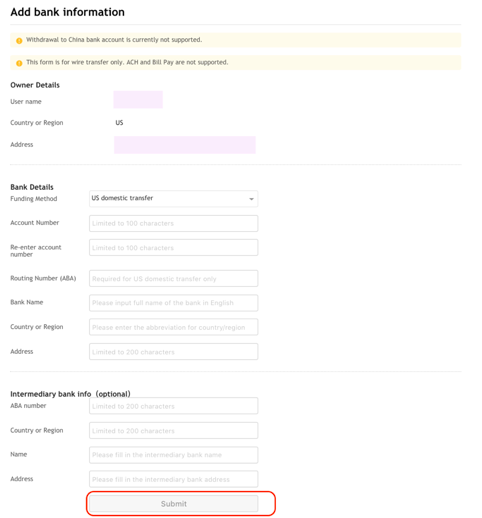 Step 3- Submit the Amount you wish to deposit
Return to the Fiat Deposit page and input the corresponding deposit amount.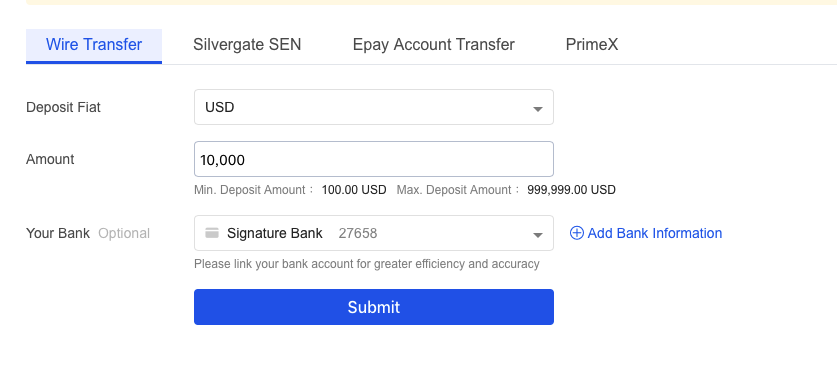 Step 4- Confirm/Submit the Deposit Request
Confirm details such as the Requested Amount, Wire Amount, and Bank Account Number. Submit the deposit request.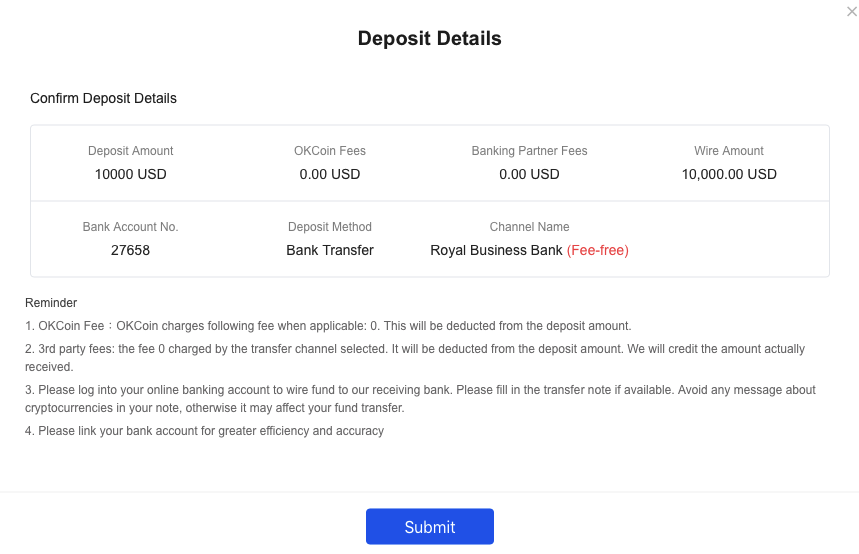 Step 5- Proceed to Your Bank to Initiate a Wire Using Wire Instructions Provided
5a. After Step 4- Confirm/Submit [OKCoin] Deposit Request, you will see the wire transfer instruction displayed on the screen. Please use the wire transfer instruction provided to initiate a wire transfer from your own bank.
Note: The screenshot below is only an example. Please use the actual wire instruction displayed after you submit Step 4.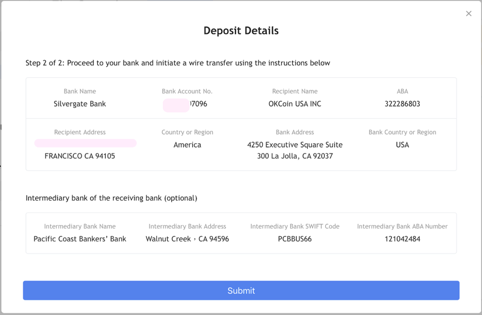 If you close the above popup, you can re-check the deposit request details and wire transfer instruction by clicking the View hyperlink.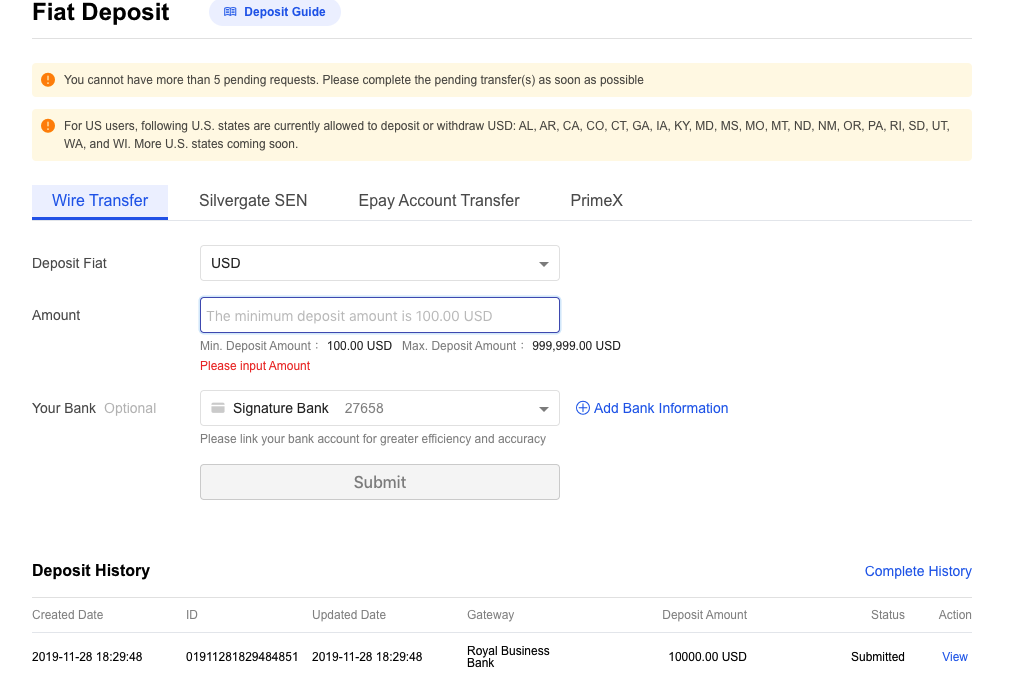 5b. Initiate a Wire Transfer From Your Own Bank
Login to your own bank's online banking platform (or visit your bank branch) to initiate an actual wire transfer, using the wiring instruction provided by OKCoin.
For example:
The bank that I will use to wire money to OKCoin is Wells Fargo Bank.
I login to Wells Fargo online banking platform.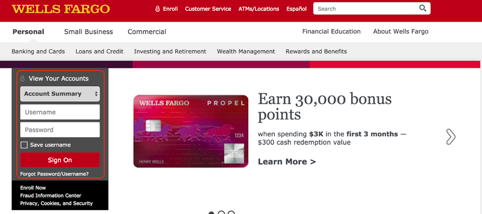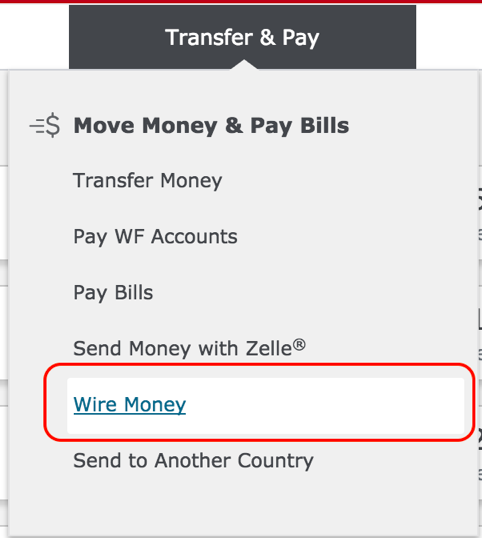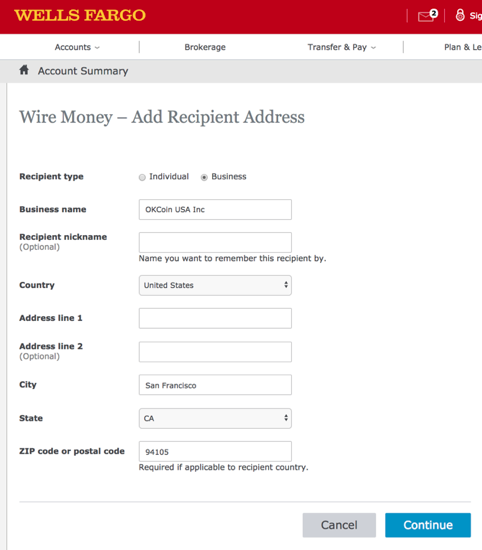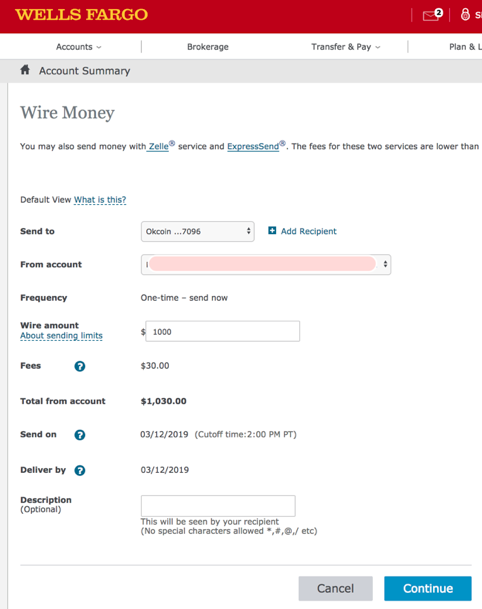 Step 6- Check Your Wallet Balance
Your deposit via wire transfer will be credited to your OKCoin account in 1 to 3 days.
You may check your balance in the Wallet.
Start trading by transferring your fund to your Spot Account or Margin Account (only available to non-US).
Note: The term "deposit", when shown on this page, generally means transferring-in fiat to the relevant bank account. OKCoin is not carrying out, and does not intend to carry out, any deposit-taking business.