We are going launch a new feature, "My Wallet", in the account management system on OKCoin. During the update, all deposits, withdrawals, and transfers of tokens and fiat will be unavailable for approximately half hour (the exact time will be announced later).
What to expect after the update:
All token or fiat deposits and withdrawals will have to be performed in "My Wallet". Spot account will no longer serve as the main asset management account.
Your assets in the OKEx account will not be affected
To perform trading, you will be required to transfer your funds from "My Wallet" to spot or margin trading account
My Wallet will also be integrated into sub-accounts, handling all the transfers between master and sub accounts.
For more details, please refer to: Guide to My Wallet.
For API users, the request address remains unchanged. We will also provide a new API port for funds transfer, please refer to the below for details. The port will go live right after the update is completed.
Port name: Funds transfer
Request category: pots
Request URL: /api/v1/funds_transfer.do
Request parameters: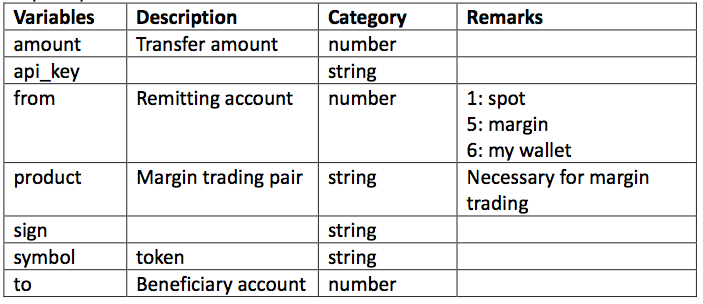 Corresponding parameters: